European Masters Championships 2018 Slovenia
Over 3700 masters swimmers attended the European Masters Championships in Slovenia September 2018
The swims were held in the 50m outdoor pool in the town of Kranj
Despite heavy rain early in the week Mike was lucky enough to have warmth and sunshine for all his events, avoiding the evening thunderstorms
Highlight of the week was:
3rd place in the 50m backstroke , just 0.1 sec off the British Record in 31.73 in the 55-59 age group
Mike swam 5 events in total other results as follows
100 Backstroke 4th 1:10.86
50m Fly 5th 29.21
100m Freestyle 7th 1:01.38
All of those swims broke the midland district records he broke earlier in the year
Finally
50m FC 12th 28.23
The week ended with a move to the beautiful area of Lake Bled where the open water swims were held.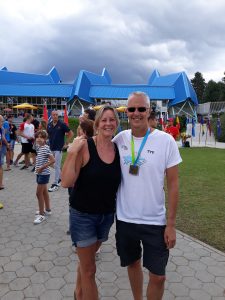 "Congratulations to Belper Marlins Head Coach Mike Brett from all at BMSC"
Subscribe!
Get all the latest updates and news in you inbox.
Copyright 2022
Join Belper Marlins
We'd love to have you with us
Fill in this form to start the registration process