Marlins Masters Make Magnificent Medal Haul
Last Saturday at Alfreton Leisure Centre immediately before the Club Championship gala, a team of Belper Marlins finest masters swimmers competed at the Etwall Eagles Masters Open.
During a great day of racing the Marlins swimmers won 31 individual Derbyshire county titles and set many personal bests. Three new club members also experienced their first masters competition, racing well, and for Ben Hodgson gaining his first county title at the tender age of 39.
Kirsty Durose also topped her five county golds by setting a meet best time, thereby earning herself a place in the record books. She also achieved second place in the women's skins event, in which her stamina and all-round ability came good. The skins also tested two male Marlins, Jack Rhodes and Ken Flett, who both showed impressive speed and a great attitude.
The team members combined in various relays to win another 3 Derbyshire golds and set the best overall time in the mixed 4x 50m Medley, beating teams from much larger clubs.
Finally, a special mention must go to Jack Rhodes, one of our coaches and a fierce competitor who took on the challenge of swimming every possible event at the gala. In each race he gave everything and kept going through relays and the skins competition. Unfazed by this, he stayed at the pool for the Club Championships, racing in two more events. All of our younger swimmers can learn from his great approach to training, racing and enjoying our sport.The Belper Marlin masters train twice weekly at Belper, and at additional sessions by invitation.
If you are interested in finding out more, please contact Robert Rantzen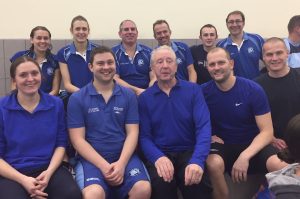 Copyright 2023
Join Belper Marlins
We'd love to have you with us
Fill in this form to start the registration process