Planning Ahead..2017
With Xmas not far away and next years Counties on the horizon BMSC continues to look for opertunities for swimmers to qualify for this event.
BMSC swimmers will have the following opportunities to achieve QT times.
October.
BMSC Ghoul in the Pool (L3 licensed)
The Arc Matlock
November.
Club Championships 2016 (L4 licenced) 13th,20th & 21st November
Alfreton LC
December.
Festive Frenzy 2016 (L3 licenced) 17 -18th December
Harvey Hadden Pool Nottingham
Download the entry Pack and then print off the individual entry…

If the Gala is well supported then the Coaching Team will look to support the Meet.
BMSC Closing Date: 30/10/2016 this is due to popularity of this Gala.
Cheques Payable to a BMSC along with Entry.
The County Championship Closing Date for Clubs is planned for 16/1/17 which means BMSC Closing date will be 13/01/17.
Therefore please consider the above Galas to gain you're QT Times.
Here's a reminder of this years times remember its age as of 31/12/17.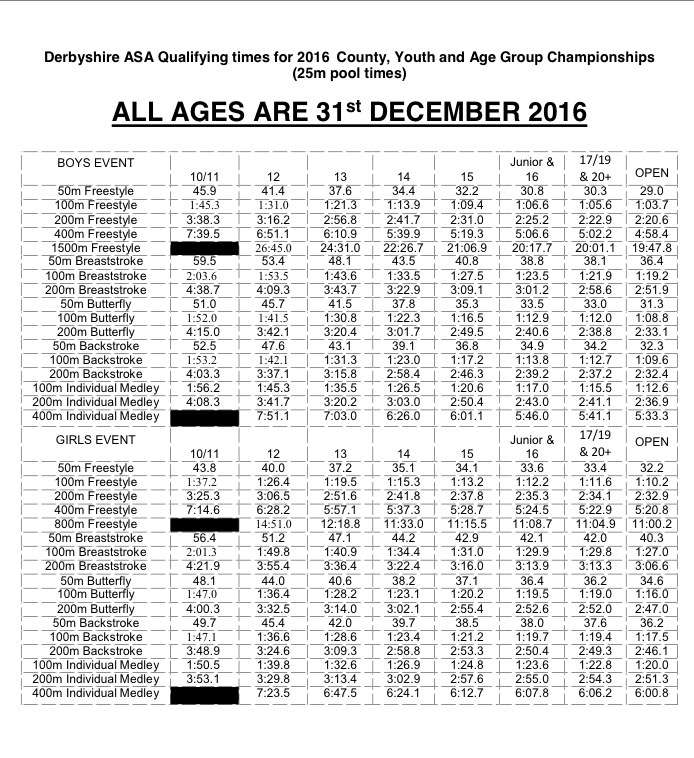 Thanks
BMSC Coaching Team
Copyright 2023
Join Belper Marlins
We'd love to have you with us
Fill in this form to start the registration process